Noted for his portraiture, Leon Lippert created a versatile body of art that includes life studies, landscapes, still lifes, murals, church paintings and commercial illustrations.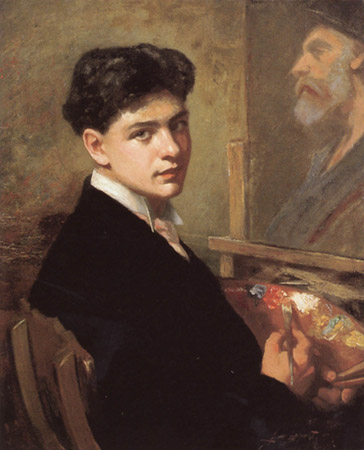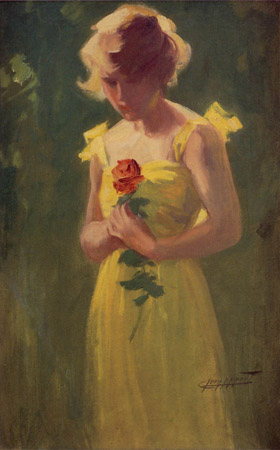 Portraits & Life Studies
Lippert's impressionistic life study titled "The Rose" evoked considerable attention when exhibited at a 1916 exhibition at the Cincinnati Art Museum. Strong use of chiaroscuro dramatizes this 22×14 inch oil on canvas.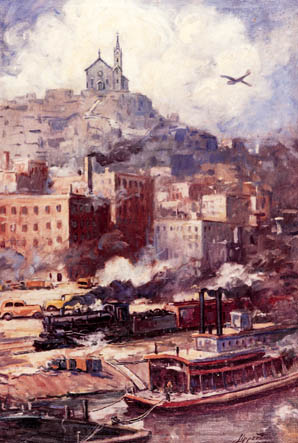 Landscapes – both urban and pastoral
Work and Pray, oil on canvas, 29-1/2×19-1/2 inches, circa 1938. Transportation of every kind is dominant in this busy Ohio Riverfront scene showing Cincinnati landmark Immaculata Church on Mt. Adams in the background.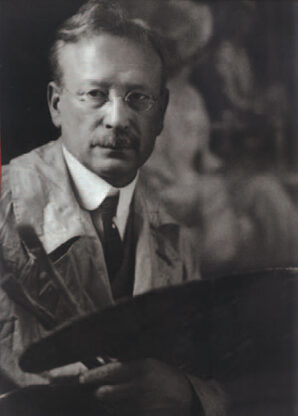 About Leon Lippert
Leon Lippert (1863-1947) painted from his own studio in downtown Cincinnati for nearly 60 years. His work is represented in the Cincinnati Art Museum, the Cincinnati Art Club, several regional museums, as well as a number of family and private collections.
Lippert can capture the brilliance of a summer day or the essence within the soul of his sitters.

Charles A. Weiner, Jr., Past President, Ohio Chapter, American Art Society, Patricia Weiner Gallery, Montgomery, Ohio